REMINDER: The VA will only cover courses that are required for your degree and satisfy unfulfilled degree requirements.

If you submit courses for certification that cannot be verified as required for your degree, they will NOT be certified. Courses can be verified using your Degree Progress Report or a document from an academic advisor and/or program coordinator.

If you have any questions, you can contact our office at 415-338-2336, veterans@sfsu.edu or our One Stop window. You can also contact the VA or your VR&E counselor directly.
Office Announcements
Be sure you verify your enrollment with the VA each month to get paid if you are using Post 9/11 benefits. Below are links to instructions from the VA.
We understand that you may be called to military service while enrolled at San Francisco State University, and we want to ensure you have the support you need to balance your service and your education.
If you are called to military service, whether for a short-term (less than 30 days) or long-term (30 days or more), we offer supportive options.  If you are called to long-term service, you may take a long-term military leave of absence, and withdraw from the university with a full refund for the semester, and you do not need to re-apply for admission.  If you are serving less than 30 days, you have the same option to withdraw from the university with a full refund for the semester, but there are additional options that may allow you to remain in the class with accommodations.
If you have been called to military service, please contact the Veterans Services Office by emailing veterans@sfsu.edu or calling (415) 338-2336, and we can assist you with the steps to request a short- or long-term military leave of absence.
Steps to request a short- or long-term military leave of absence
Notify and provide proof of your military service to the Veterans Services Office (when possible, this should be done before your military service begins).

Military Orders with dates provided
DD214

Request the type of action you want to take for the semester:

Withdraw from one or all your classes
Rescheduling of exam or quizzes
Alternative assignments
Request online opportunities to participate in class
Request alternative dates, times, or modalities for presentations
Request independent study options to complete course requirements
Request an incomplete (if at least 75% of the class was completed)

Veterans Services will review your documentation and provide a memo to you and your instructors about your request, or notify the Registrar's Office and Bursar's Office of your withdrawal from one or more of your classes.
For detailed information about military leave:
34 CFR 668.18 California Education Code 66023 and The California State University, Office of the Chancellor Memorandums: Code AA-2014-01 and code AA-2010-12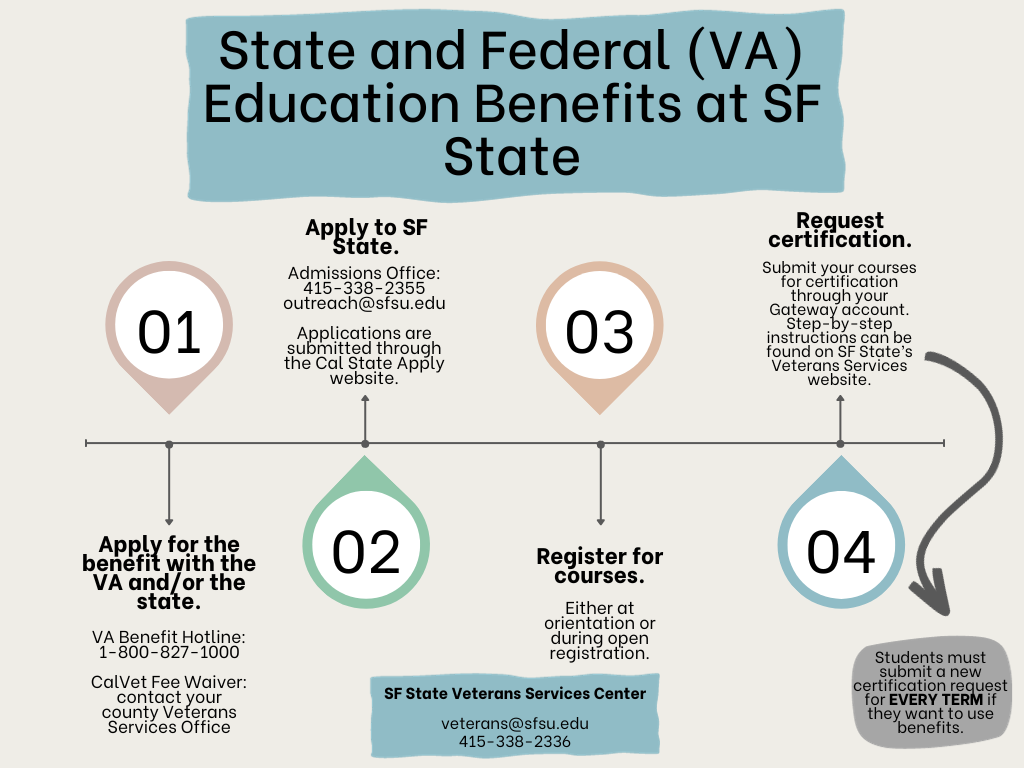 To access a version of this flowchart with clickable links, view the PDF below.
SF State Veterans and dependents must use the Student Center's Veterans Benefit portal to: 
Make requests for initial veterans education benefits certification
Review the status of certification requests
Update classes requested for certification, or classes that already received certification (also notify the office of any changes via email at veterans@sfsu.edu. We are NOT automatically notified by the online system.)
Review veteran education benefit general policies
All requested documents must be submitted online through the Veterans Benefit portal.
For help using the Veterans Benefit portal, visit our student guide or login to your Student Center to get started.
MHA a.k.a. BAH
More information about how the Monthly Housing Allowance is calculated: 
GI Bill® is a registered trademark of the U.S. Department of Veterans Affairs (VA). More information about education benefits offered by the VA can be found on the VA's official U.S. government website.
San Francisco State University bans the practice of providing commission, bonus, or other incentive payment based directly or indirectly on securing enrollments or federal financial aid (including Tuition Assistance funds) to any persons or entities engaged in any student recruiting, admission activities, or making decisions regarding the award of student financial assistance.
San Francisco State University does not use high-pressure recruitment tactics such as making multiple unsolicited contacts (3 or more), including contacts by phone, email, in-person. Nor does SF State engage in same-day recruitment and registration for the purpose of securing Service member enrollments.